Hello blog. We haven't talked in a while. First up, some things I bought that sound nice:
Arovane – Atol Scrap (Album) [Din Germany]
Audio clip: Adobe Flash Player (version 9 or above) is required to play this audio clip. Download the latest version here. You also need to have JavaScript enabled in your browser.
Utterly beautiful electronic music. Nice for warmup or afterhours.
Pantha du Prince – The Splendour [Rough Trade]
Audio clip: Adobe Flash Player (version 9 or above) is required to play this audio clip. Download the latest version here. You also need to have JavaScript enabled in your browser.
OK so I didn't buy this one, but it's still good and worthy of a mention. Free album teaser from the Rough Trade website.
Alva Noto – Xerrox Vol 2 (Album) [Raster Noton Germany]
Audio clip: Adobe Flash Player (version 9 or above) is required to play this audio clip. Download the latest version here. You also need to have JavaScript enabled in your browser.
Killer electronica that's perfect for telling a story with your set.
CV313 – Subtraktive (Intrusion Twilight dub)
Audio clip: Adobe Flash Player (version 9 or above) is required to play this audio clip. Download the latest version here. You also need to have JavaScript enabled in your browser.
Mad decent jacking dub-techno. Comes to life on the Funktion 1.
Taron_Trekka – Radio Fligg EP [Brut! Germany]
Audio clip: Adobe Flash Player (version 9 or above) is required to play this audio clip. Download the latest version here. You also need to have JavaScript enabled in your browser.
One of my top labels of 09, this one is from July and (kinda like that girl you said you're not going to get with and then end up getting with cause you're drunk and she looks hot) keeps getting a spin.
Entlet / Crowdpleaser – Vic20 Session Vol 1 [Perspectiv]
3rd release from another top label (run by Ripperton). All tracks are killer, but there's a special place in my heart for Jewel Self Dribbling Basketball (dub). There's a vocal version of it up on Beatport, but it gets a tad annoying after a while. Stick with the dub.
Audio clip: Adobe Flash Player (version 9 or above) is required to play this audio clip. Download the latest version here. You also need to have JavaScript enabled in your browser.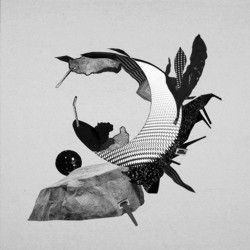 Landschall – Colorado Avenue [broque 057 netlabel]
Seriously fresh sounding techno with a human touch. I've put the full track in the player below for you so give it a second to load. Even my dad likes this.
Audio clip: Adobe Flash Player (version 9 or above) is required to play this audio clip. Download the latest version here. You also need to have JavaScript enabled in your browser.
Synkro – Heroes [Synkro]
Audio clip: Adobe Flash Player (version 9 or above) is required to play this audio clip. Download the latest version here. You also need to have JavaScript enabled in your browser.
Lately I've been shaking up the sets blog. It's nice to delve into other rhythms. Synkro's stream of EPs this year on his own label have been top picks of my steadily growing dubstep pile. Beautiful, deep and ethereal.
Four Tet – Love Cry (Joy Orbison Remix) [Domino]
Audio clip: Adobe Flash Player (version 9 or above) is required to play this audio clip. Download the latest version here. You also need to have JavaScript enabled in your browser.
While on the dubstep tip, here's something from the uber-cool named Joy Orbison. Also worth checking out is Kieran Hebden's remix of Joe Goddard – Apple Bobbing and a super limited edition EP on his new TEXT label which has been getting airplay at the Border Community nights for the last year called Lotus Flower.
Rick Wilhite – "Get On Up!!" (Theo Parrish's Late dub) [Rush Hour]
Audio clip: Adobe Flash Player (version 9 or above) is required to play this audio clip. Download the latest version here. You also need to have JavaScript enabled in your browser.
I'm more of a fan of fresh new sounds, but some of this year's reissues sound so fresh they were impossible to ignore. This first one is happy rolling house track with a big bad kick drum from the master Theo Parrish. It stays firmly on the side of groove and thankfully doesn't cross over into gay house territory. Rick's unreleased mix is fun too, one for a NYE party.
DJ Chus / The Groove Foundation – That Feeling (Circulation St Tropez mix) [Defected]
Audio clip: Adobe Flash Player (version 9 or above) is required to play this audio clip. Download the latest version here. You also need to have JavaScript enabled in your browser.
From 2002, a good-vibe exuding record. Saving this for the right time is a bit of a pain, but hope to play it out someday.
Anthony 'Shake' Shakir – Arise [Syncrophone France]
Audio clip: Adobe Flash Player (version 9 or above) is required to play this audio clip. Download the latest version here. You also need to have JavaScript enabled in your browser.
The mother of all reissues ! Originally came out in 1998. It's on Beatport as well, but there's still a few vinyl copies left over at Phonica Records for you to grab. Guaranteed to sell out very soon.
Langenberg – Times (Manuel Tur's Ground Glass Reflex) [Mild Pitch]
Audio clip: Adobe Flash Player (version 9 or above) is required to play this audio clip. Download the latest version here. You also need to have JavaScript enabled in your browser.
I played at Cabaret Voltaire in Edinburgh last weekend with Mano, which is always a pleasure. The Scottish are crazy and put the Irish to shame. The bass in this record went down very well. It's all about the bass really.
Pub – Summer [Unknown]
Audio clip: Adobe Flash Player (version 9 or above) is required to play this audio clip. Download the latest version here. You also need to have JavaScript enabled in your browser.
Close your eyes and lose yourself
Other than that blog, I have been skillfully avoiding my thesis. Cannot wait for the day that is finished. I'm taking a break from gigs from January to finish it, so we may talk a little more then